Thursday, March 28, 2013
I'm back baby and I <3 all my fans.
I must apologize to all the metal heads, hipsters, soccer moms, and wine connoisseurs who were undoubtedly <3broken by the lengthy albeit temporary death of this excellent blog. I became rather dis<3ened after the powers that be raped the internet and made it impossible to link all my favorite music (that you should fucking like because I DO) to the masses. Nevertheless, after some serious soul searching (in mecca?) I realized my vanity (fair?) requires that I continue to force my limited knowledge of music down people's throats. Even if I cannot provide this music in mp3 format, the common people (the proletariat?) will benefit from the knowledge of its existence alone. Therefore, without further ado, here are some metal songs I've been really digging. I guess you'll just have to find them on your own (spotify).
Bestial Mockery - Slut Fuck Cult  
(found this one by accident and it was just what I was itching for - really fucking evil thrashy black metal. Not for extreme feminists or those who are easily offended by lyrics about demons fucking sluts in hell.)
Absu - Pillars of Mercy
(THE FUCKING DRUMS!)
Forefather - Brunanburh
(English folk metal perfection. Seriously perfect. Although at this point I've listened to it at least one hundred times and I'm getting pretty tired of it. Fuck.)
Hate Eternal - The Creed of Chaotic Divinity
(I could pretty much pick any Hate Eternal song and say it fucking slays, but this one is particularly awesome in my opinion.)
Quo Vadis - To The Bitter End
(Some nice techy death for yas)
Ex Deo - Caligvla
(There was a time when I would have dismissed this band as too cheesy and mainstream, but now I just don't give a fuck about all that. If I am entertained, then the music has done its job. Maybe it makes me a huge nerd, but symphonic death metal centered around tyrannical roman emperors is extremely entertaining to me, especially when done this well. This is seriously epic shit. Too bad I can't find the full album anywhere. Maybe I'll actually have to buy it. FUCK!)
Ulver - Wolf & Fear 
(What can I say? I love wolves and I love ulver. Classic song from a classic album.
Trist - Vabeni Pokojne Tmy
(Hypnotic)
Thursday, May 17, 2012
"
That night a green, sickly light seeped from under the hospital doors, a transparent green swimming pool light, and an orderly smoked a cigarette, standing on the curb, and among the parked cars there was one with its light on, a yellow light as in a nest, though not just any nest but a post-nuclear nest, a nest with no room for any certainties but cold, despair, and apathy.
"
2666 
Tuesday, April 10, 2012
Today Is The Day - Willpower (1994)
The opening Goodfella's sample. Lorraine Bracco screaming "I LOOK IN YOUR FACE AND I KNOW THAT YOU'RE LYING!" An auditory catharsis. A sense of dread that no kafkaor sartreordostoevskyoratwoodordanielewski novel could manage. This is it, kids. Finding it difficult not to call sonic youth a bunch of pussies upon listening. Love sonic youth. But this goes harder. Nothing's wasted. Nothing's spared. A riff here, a riff there. A riff everywhere. A brief melody interposed between seas of musical bedlam. A wicked classic recahd. 
Monday, March 5, 2012
Yelle - Safari Disco Club (2011)
On the metacritic page for this record, I noticed a certain critic's remarks that insisted  Yelle's Universal appeal suffers from her choice to again sing en français on her second studio LP.While I agree it is undoubtedly true that Yelle has potentially blocked herself access to global mainstream success (doesn't this sound shitty anyway?), I think a critic gain's nothing in discussing a particular artist's commercial viability. This is nothing else than a semi-decent excuse to avoid what should and must be discussed: the fucking music. Oh yeah, maybe I should talk about that.
The French singing happens to be crucial to the sound Yelle has developed since her first release, Pop Up. As a speaker of French, I can say confidently that the fluidity and the very timbre of the vocals would suffer tremendously from a switch to English. The French thing aside, the beats and vocals are beautifully restrained compared to those of La Roux or Robyn while remaining edgy and weird. Wild intros and breaks that sometimes get into glitch-territory. Definitely danceable.
I do not only like metal. 
Highlights: Title track, Comme Un Enfant
d0wn10ad - Can't find one. Spotify it!
Wednesday, February 29, 2012
Belphegor - Necrodaemon Terrorsathan
I only have a few minutes to write this so I'll be brief. This band is incredible. I have a soft spot for blackened death metal done right and these guys… Well let's just say I've been struggling to find another record that compares in heaviness. This album is absolutely relentless. Austrian's who like satan and hate christ and shred. 
Tuesday, January 3, 2012
Soundtrack to The Apocalypse: 5 Metal Albums You Just Cannot Die Without
Taking into account all the apocalyptic, folkloric bullshit surrounding this new year, I assume people will soon helplessly start seeking just the right kind of music to set the mood for one of or some of or all of the doomsday-scenarios alleged to occur by the end of the year. Do not fret. I have the antidote. Here are some old school heavy metal goodies to get you pumped for the Earth's end.
Black Sabbath - Heaven And Hell
Fuck the Dio haters. The first album to feature Sabbath's second vocalist is one of their very best, despite the general disgust most fans of the band feel towards this era. Give it a chance. For me. Just check out that album cover. How can you say no to angels smoking cigarettes?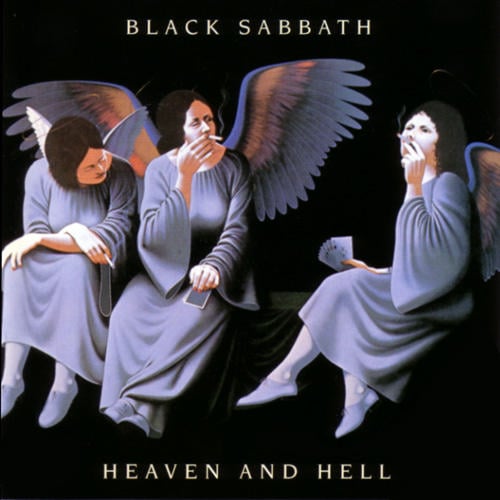 Bathory - Bathory
The classic viking/black metal band's debut album has a much more blatant thrash feel than their later efforts and sounds a lot more evil IMO. If Kreator and Venom had a baby this is what it would sound like, and it would look despicable.
Toxic Holocaust - Conjure and Command
I know, this is a fairly new band, but they happen to play thrash metal and despite their commendable innovations they still sound like they belong in the 80's. This is hardly ever a bad thing and the band pulls it off tremendously well. If you likey check out: Skeletonwitch, Havok, and Destroyer 666
Beherit - Engram
There are so many black metal bands that would suit the purpose of this list, but Beherit may be the perfect choice. It's hard to say no to a metal album that begins with the spoken words, "Because, I just fucking hate this world." Beherit welcomes the apocalypse. 
Kreator - Extreme Aggression 
Although Slayer is a no-brainer, Kreator may be the next best thing when it comes to 80's thrash. This album slaaays. 
Saturday, December 17, 2011
disma - towards the megalith
Every once in awhile I will stumble upon a record that is so fucking heavy that I cannot help banging my head and playing air guitar throughout every song. Disma's latest record is one of these metal masterpieces. Although this might not be an immediately obvious comparison, the buzz-saw riffs that dominate this album remind me of death'n'roll era Entombed. Disma is a lot slower though, and there is certainly no melody to be found in the vocals, which achieve the now difficult task of being absolutely terrifying. The production of "Towards The Megalith" is definitely spot on. Grimy, but not too lo-fi. Old school sounding without abandoning a slight modern edge. The drums never get too fancy, but they are mixed perfectly and sound amazing. All this makes for one heavy sounding product. Did I mention the songwriting, or riff-writing, is outstanding as well? \m/>.<\m/
Tuesday, December 6, 2011
Thursday, December 1, 2011
The Undisputed Best Tracks of 2011
As the year approaches its terminus, and the apocalypse becomes so close we can taste it, it is tempting to compile this year's best tunes for those squares who often forget that there is new listenable music other than Adele's "Rolling In The Deep." Like those posers who wasted no time in buying supreme hats after the release of "Yonkers" in an effort to be just like the OF frontman, you will all presently be blasting the following tracks through your headphones in an effort to be like me:
Yelawolf - Hard White (Featuring Lil Jon)
Wolves in the Throne Room - Subterranean Initiation 
Endstille - The Deepest Place on Earth
Skeletonwitch - This Horrifying Force (the Desire to Kill)
Wednesday, November 30, 2011
Siouxsie And The Banshees - Juju
Despite the popularity of the first song on this record, "Spellbound," the second track, "Into The Light" is without question the standout tune on the band's fourth record. When Siouxsie twice repeats the second syllable of "when" in the chorus it is a mystery that this band isn't as much cherished for their catchiness as for their edginess. Even if the rest of this album is trippy as fuck…